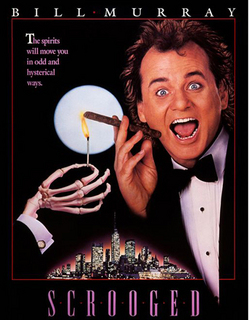 Despite his best efforts, Ernie did not ruin Christmas after all. In fact, it was pretty enjoyable all around. The wife and I woke up about noon and exchanged presents. That was followed with roughly three hours of listening to
the Chanukah Song
by Adam Sandler. We're not Jewish, but when I listen to the song I wish I were. Sorta like when I watch
the Color Purple
, I wish I was black.
We had Christmas dinner with Bekki's parents. Three helpings of prime rib later, I felt as though I might explode. The twice-baked potato didn't help, either. Luckily, we had one more holiday tradition to look forward to- Scrooged, the 1988 comedy classic starring Bill Murray. It's a staple in our home. It's just not Christmas without watching it at least once.
We came to the conclusion that Murray's character would be viewed, from a medical standpoint, as going through a manic episode brought on by stress and fatigue. You know who else went insane? Musician Daniel Johnston. They did a great documentary about him called The Devil and Daniel Johnston. It isn't as funny as Scrooged, but it's worth watching. Overall, we had a great Christmas.